We are DIRECT and EXCLUSIVE DISTRIBUTOR/SUPPLIER
of AUTHENTIC, BRAND NEW and AFFORDABLE EpSA products.
Our products are designed to break that never ending cycle by helping to restore your hairs balance with natural moisturizers. The secret to great hair is eliminating factors that cause damage or dryness. You can stop hair loss, breakage, dryness and more by switching to natural moisturizers.

Our natural products are gentle and effective in revitalizing dry, damaged and chemically processed hair into radiant silky beauty. You will have hair that is softer, shiner and more healthy than ever before!
TO REQUEST FOR OUR PRICELIST:
PLEASE EMAIL US AT 

EPSA.PHILIPPINES@GMAIL.COM

OR AT 

EPSA.PHILIPPINES@YAHOO.COM

WITH THE SUBJECT, "PRICELIST REQUEST" AND CONTAINS THE FF. INFORMATION:
COMPLETE NAME
ADDRESS
CONTACT NUMBERS
BUSINESS NAME/ONLINE SHOP URL
* This is for verification purposes to check the veracity of the request and requester's identity.
** Pricelist is applicable only for online buyers and purchases on our flagship store here in Manila.
*** Pricelist request is still subject to management's approval.
**** Prices are subject to change without prior notice.
EPSA HAIR REBONDING PRODUCTS
EPSA LIGHTNESS HAIR REBONDING TREATMENT coconut (3bottles)
EPSA LIGHTNESS HAIR REBONDING TREATMENT papaya (3bottles)
EPSA HAIR REBONDING CREAM 1000mlx3
EPSA MILK REBONDING IN POUCH 1250 ml (2pcs/set)
EPSA GINGER REBONDING IN POUCH 1250 ml (2pcs/set)
EPSA FRUITY HAIR REBONDING 1250ml (2pcs/set)
EPSA ALOE VERA HAIR REBONDING 1250 ml (2pcs/set)
EPSA COLOR REBONDING 500ml (2pcs/set)
*Standard processing fees will apply.

**Please inform us of your preferred mode of payment so we can send you further details.

***Buyer will receive a notification email which the buyer must respond to within 5days.

Failure to reply will force the seller to leave the buyer with a negative feedback.

FOR GCASH:


Additional 1% of the total of your orders.

FOR PAYPAL:


We only accept payment in paypal for bulk orders and international buyers.
Additional 1.9%-2.9% 0.30usd for the transfer.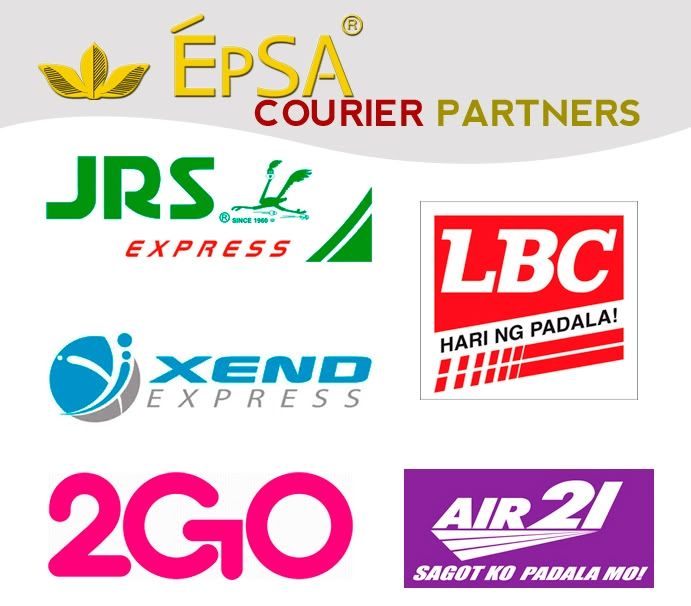 Shipping fee will be shouldered by the buyer unless stated otherwise.

Our default courier is JRS Express.

Shipping of orders to provinces is delivered through our default courier.

If you have a preferred freight/cargo forwarder, please contact them for their rates. We asked for additional payment for the handling fee if you want us to bring your orders to their office.

Item/s will be shipped within 24 to 48 hours after payment has been confirmed.

We do combine shipping so feel free to check out our other items.

For buyers outside Metro Manila, combined shipping is only available for items that can fit in 1 the courier's available pouch bag.

Additional pouches will be charged separately.

WE CAN ALSO DO MEET-UPS UPON BUYER'S REQUEST
(FOR BULK ORDERS ONLY. MINIMUM OF 6 RANDOM PRODUCTS/ITEMS)
(ADDITIONAL MINIMAL FEE TO COVER HANDLING EXPENSES)

SM San Lazaro

SM Manila

Robinson's Place Manila

LRT 1 & 2 Stations

Caloocan City
*Please inquire
Ever Gotesco Mall, Victory Mall, Pajo, Sangandaan

Quezon City
*Please inquire
Trinoma Mall, SM The Block, Gateway Mall, West Ave.

2 days notice prior to buyer's preferred date which must coincide with our availability.

For provincial deliveries please inquire to us. We want to give you more and easiest ways to deliver your orders.
Failure to complete the transaction will merit you a negative feedback.
Please make sure that you read and understand the terms and condition before you order.
All items are brand new and authentic.
Cancellation of orders are not allowed. Once you submitted your orders, it will be considered SOLD.
No RETURN, No EXCHANGE Policy.
If you are NOT 101% sure of getting it, please let's not waste each other's time.
Please do contact us for questions you may have regarding our products:

YM:

epsa.philippines@yahoo.com

Gtalk/Gmail:
http://mailto:epsa.philippines@gmail.com
Twitter:
@epsaphilippines
Facebook:
facebook.com/epsaphilippines
Facebook page:
facebook.com/epsaph
Multiply:

epsaphilippines.multiply.com

Wordpress:

epsaphilippines.wordpress.com